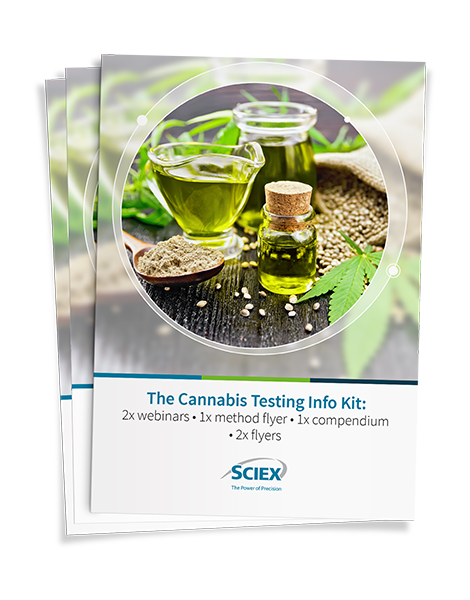 The European marijuana and hemp testing information kit
Extensive resource kit to drive improvements in cannabis testing
As the cannabis market is rapidly growing, lawmakers are redefining regulations. There is a great consumer push for quality, purity and safety. For cannabis producers, dispensaries and authorities, this means it's important to have sensitive techniques and technologies to analyze products for:
Potency and Profiling—quantification of key components including THC, CBD, CBG and CBN for legal compliance and label claims. Investigation of concentration and identification of other cannabinoids and terpenes offers a means helps to ensure efficacy of products.
Chemical residues—legislation covers the acceptable levels of contaminants such as pesticides and mycotoxins according to local or regional regulations. Accurate, reliable LC-MSMS analysis helps to ensure confidence in reporting confirmed values at low levels in challenging matrices.
SCIEX has compiled some of the most useful marijuana and hemp testing publications for quick reference helps to ensure the safety and quality of cannabis products.

Included in the information kit:
1 technical note on Future-proofing Cannabis analysis with the SCIEX Triple Quad™ 7500 LC-MS/MS System – QTRAP® Ready
2 webinars focused on optimizing multi-residue pesticide testing
1 method flyer on meeting California's cannabis testing requirements using liquid-chromatography mass spectrometry (LC-MS/MS)
A compendium of global marijuana and hemp trends and landmark analytical research including four technical notes demonstrating the capabilities of SCIEX LC-MS/MS systems for potency, pesticides, and mycotoxins testing
2 flyers outlining the important points in some key topic
1 technical note on analysis of pesticides in cannabis
Download the information kit
RUO- MKT-18- 11063 - A