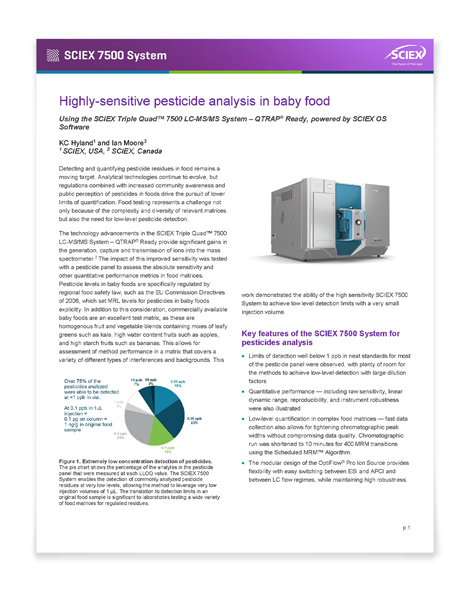 Quantify more than 200 pesticides in baby foods at ultra-low levels
Get the technical note to see how you can GO BEYOND sensitivity like never before
The ultra-low maximum residue levels (MRLs) of pesticides in baby food products established by food safety laws have pushed the need for sensitive analytical techniques that are capable of achieving these lower limits of quantification. The following technical note demonstrates how the high sensitivity of the SCIEX Triple Quad™ 7500 LC-MS/MS System – QTRAP® Ready, powered by SCIEX OS Software and how it can help.
Learn more about:
High sensitivity: easily achieve sub-parts-per-billion detection limits for analytes
Improved productivity: perform 400 MRM transitions in a single analysis, within 10 minutes
Seamless experience: understand how a single software platform, powered by SCIEX OS Software, supports data acquisition, processing and results review
Download the technical note
Related to RUO-MKT-02-11958-A
For research use only. Not for use in diagnostic procedures.