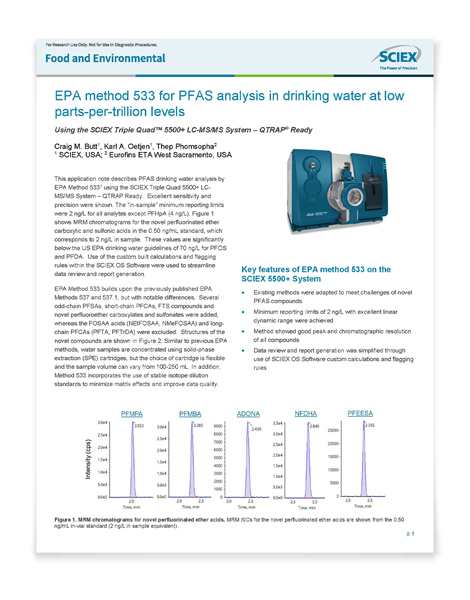 Meet the PFAS in drinking water EPA Method 533 requirements easily
Take control of your EPA Method 533 with this robust solid-phase extraction (SPE) liquid chromatography/tandem mass spectrometry (LC/MS/MS) approach to analyze per- and polyfluoroalkyl substances (PFAS) in drinking water. Download this technical note to explore the capabilities of the SCIEX Triple Quad™ 5500+ LC-MS/MS System – QTRAP® Ready in helping you:

Analyze the newly added odd-chain PFSAs, short-chain PFCAs, FTS compounds and novel perfluoroether carboxylates and sulfonates
Achieve excellent sensitivity and precision to meet the minimum reporting limits of 2 ng/L to support EPA 533 and UCMR5 requirements
Get good peak shape and chromatographic resolution of all compounds
Streamline data review and report generation through custom calculations and flagging rules using SCIEX OS Software
Download the technical note
RUO-MK-18-13023-A
For research use only. Not for use in diagnostic procedures.