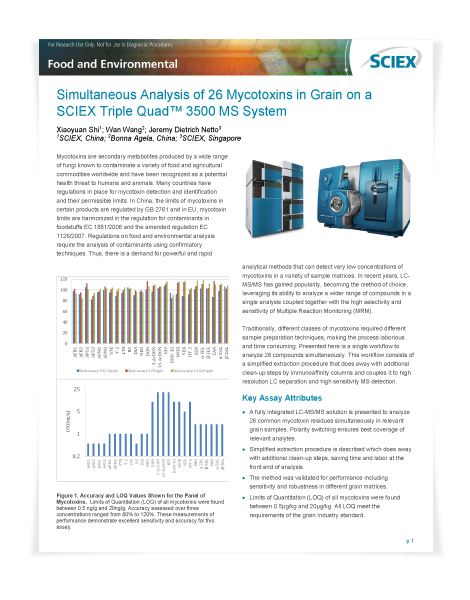 Rapid Simultaneous Identification of 26 Mycotoxins in Grains
Save Time with This Integrated Workflow. Download This Free Technical Note
Mycotoxins can be extremely detrimental to both humans and animals and maybe the cause of various medical conditions. Food testing labs need an effective, powerful, and rapid analytical method that can detect very low concentrations of mycotoxins in a variety of sample matrices. In this technical note, you'll discover a single validated workflow to detect 26 mycotoxin compounds simultaneously.

Learn About:
A simplified extraction procedure that does away the additional clean-up step
A fast purification method that covers 26 types of mycotoxins ad meets industry Limits of Quantitation (LOQ) standards
A validated method that's offers high sensitivity and reproducibility
RUO-MKT-18-7903-A
For research use only. Not for use in diagnostic procedures.