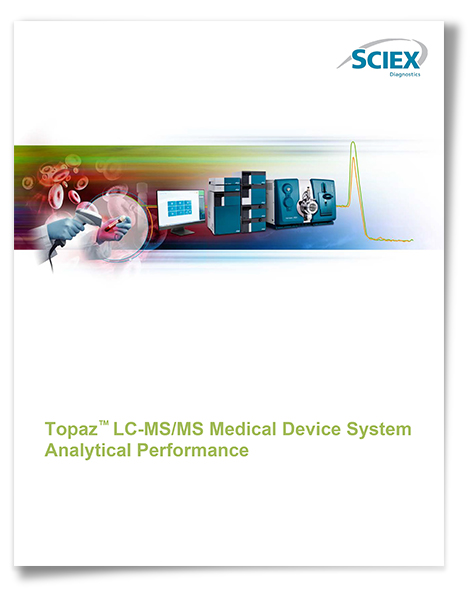 Topaz™ System for Clinical Diagnostics
The Topaz System — a Class l Medical Device, mass spectrometer-based IVD platform, empowers your lab to be operational in little time.
Accurate diagnostic testing
Reduced costs
Improved turnaround time
Confident results
With intuitive software and comprehensive training programs, Topaz System is designed for easy adoption, for a wide range of clinical lab analyst's experience.

The Topaz System is also, the first FDA-reviewed (via the de novo pathway) integrated LC-MS/MS-based Vitamin D 200M Assay Kit.*
Download the Topaz Content Pack
Topaz™ System Brochure
ClearCore™ MD Software Flyer Overview
*Kit available in the US only
IVD-MKT-18-5891-E
SCIEX Diagnostics products are for in vitro diagnostic use. Product(s) may not be available in all countries. For information on availability, please contact your local representative. All other SCIEX products are for research use only. Not for use in diagnostic procedures.