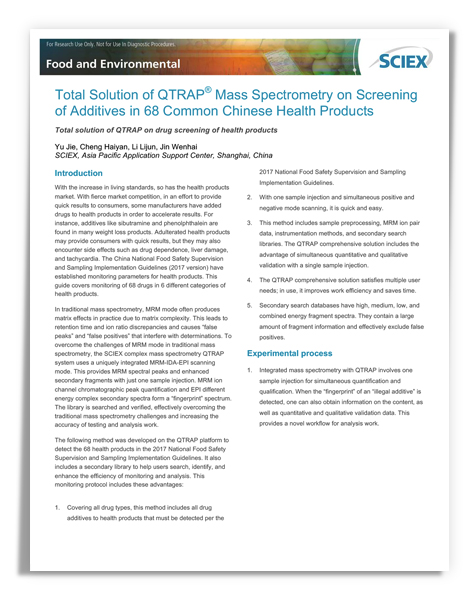 Warning: Look out for additives in your health products
Get this technical note to start screening 68 additives in common Chinese health products
Globally we've seen many countries establish stringent regulations to help control the addition of illegal chemicals to health products. In China, for example, the National Food Safety Supervision and Sampling Implementation Guidelines address the monitoring of 68 drugs in 6 different categories of health products.

The following technical note demonstrates how you can detect the 68 drugs listed in the guideline using a SCIEX QTRAP® system.
Key advantages
High sensitivity: EPI secondary spectral sensitivity is at least 500 times higher than that of traditional MRM scanning
Comprehensive: quantitative and qualitative validation with a single sample injection
Reliability: secondary validation libraries for results confirmation
Related to RUO-MKT-02-6399-A
For research use only. Not for use in diagnostic procedures.