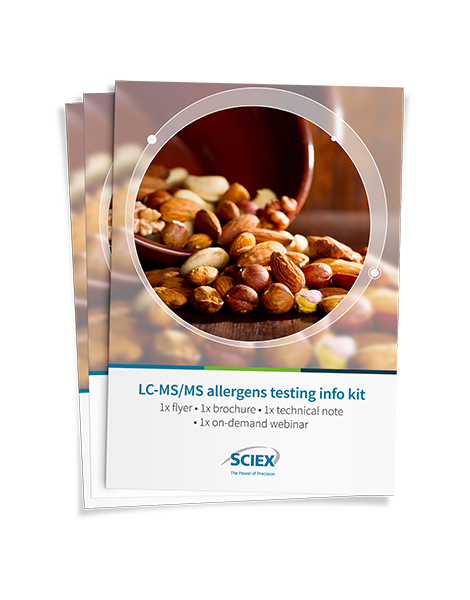 Download this free info kit
Learn more about a food allergen screening method with official classification from AOAC International
It's time to reduce the risk and liability associated with undeclared allergens. Download this free info kit to learn more about an LC-MS/MS food allergen screening method with First Action Official Method (FAOM) classification from AOAC International's Official Methods Board (OMB).
This exclusive info kit includes:
Flyer: SCIEX food allergen screening assay
Brochure: Solution for food allergen screening: SCIEX food allergen screening assay
Technical Note: Simultaneous analysis of 12 food allergens in baked and raw food products using the LC-MS/MS QTRAP® 4500 System
On-Demand Webinar: Allergen detection and authenticity testing of food using targeted proteomics and MRM3 (presented by Prof. Dr. Jens Brockmeyer, University of Stuttgart)


Start reducing your risk today. Download your free info kit on LC-MS/MS allergen testing.
RUO-MKT-18-4147-C
For research use only. Not for use in diagnostic procedures.