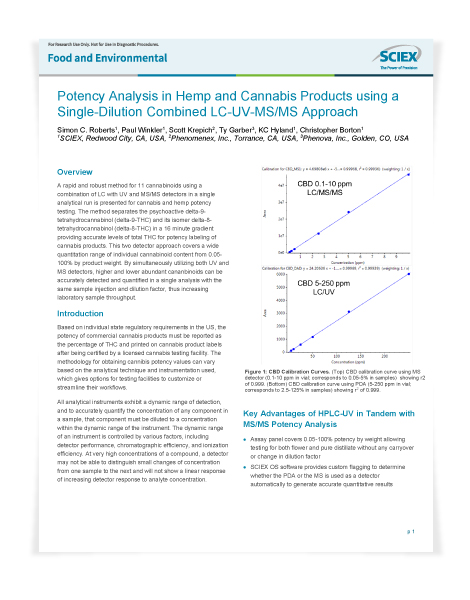 Free Technical Note: Potency Analysis in Hemp and Cannabis Products
Take Charge of Your Hemp and Cannabis Potency Analysis
While there is a variety of analytical techniques, the expectations from testing labs are the same –accurate quantification of cannabinoid content in samples. This includes THC potency levels and other cannabinoids such as CBD and CBN.

The following technical note demonstrates a rapid and robust method to determine the potency of 11 cannabinoids using high-performance liquid chromatography (HPLC)-ultra-violet(UV) and tandem mass spectrometry (MS/MS) detectors.
Key advantages:
Comprehensive – covers the entire 0.05-100% potency range
Sensitive – identify THC at sub 0.2% levels in Hemp extracts
Efficient – single-injection workflow to monitor low and abundant cannabinoids
Accurate – detect low levels with confidence
Reproducible – consistent high-quality data for every sample


RUO-MKT-18-10074-A
For research use only. Not for use in diagnostic procedures.