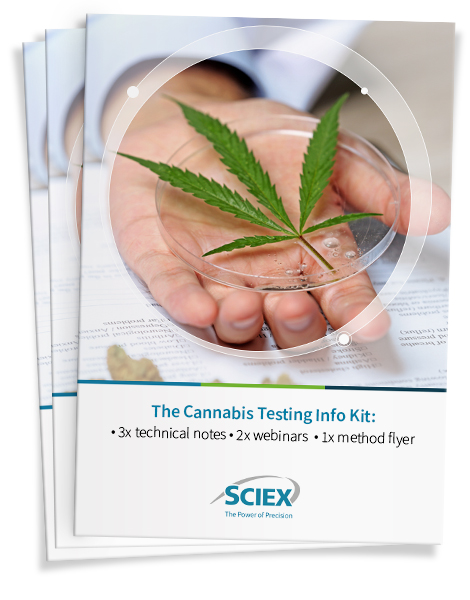 Free download: The cannabis & hemp testing info kit
Take your cannabis testing up a notch with this extensive resource kit

As the cannabis market is rapidly growing, lawmakers are redefining regulations. There is a great consumer push for quality, purity, and safety. For cannabis producers, dispensaries, and authorities, this means it's important to have sensitive techniques and technologies to analyze products for:
Potency content –cannabinoids including THC, CBD, CBG, CBN, and other compounds like terpenes
Chemical pesticides – accepted or unaccepted according to regulations such as the Oregon Guide List for Pesticides and Cannabis
Mycotoxins and mold – such as aflatoxin and ochratoxin A
We compiled some of our most helpful cannabis and hemp testing assets, so you can have the answers at your fingertips and continue to ensure the safety and quality of your cannabis products.

What You'll Get:
3 technical notes that demonstrate the capabilities of SCIEX LC-MS/MS systems for potency, pesticides, and mycotoxins testing
2 webinars about optimizing your multi-residue pesticide testing
1 method flyer on how you can meet California's cannabis testing requirements using liquid-chromatography mass spectrometry (LC-MS/MS)
RUO-MKT-18-8008-C
For research use only. Not for use in diagnostic procedures.