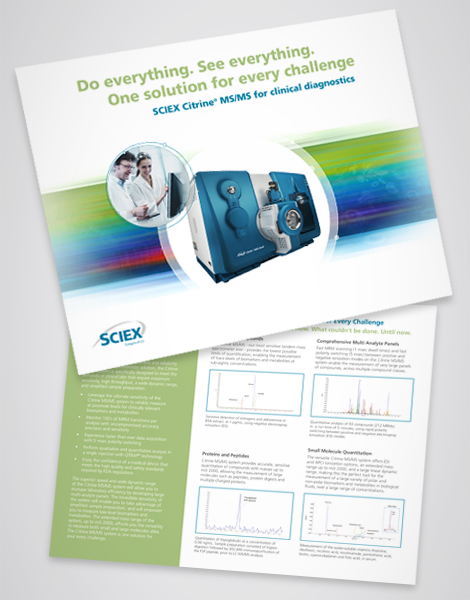 Our Fastest, Most Sensitive IVD Mass Spectrometer
Introducing SCIEX Citrine® MS/MS. An in vitro diagnostic medical device.


Experience
Ultimate sensitivity – reliably measure biomarkers and metabolites at picomole levels
Highly multiplexed panels – monitor 100's of MRM transitions per analysis with uncompromised accuracy, precision and sensitivity
Rapid polarity switching – faster than ever data acquisition with 5 msec polarity switching
Unique workflows – qualitative and quantitative analysis in a single injection, with exclusive QTRAP® technology
Download the content pack:
Citrine MS/MS® Brochure
Citrine MS/MS® for Clinical Diagnostics Analytical Performance with the following compounds:

Aldosterone
Cortisol, 11-Deoxycortisol, 21-Deoxycortisol, 17-Hydroxyprogesterone, and Androstenedione
1, 25-Dihydroxyvitamin D3 and D2
Drug Compounds in Human Urine
Estrone, Estradiol, and Estriol
Simultaneous Analysis of Aldosterone, Estradiol, Estriol, Estrone, Androstenedione, Corticosterone, Cortisol, Cortisone, 11-Deoxycortisol, 21-Deoxycortisol, DHEA, 17-Hydroxyprogesterone, 21-Hydroxyprogesterone, Prednisone, Testosterone
Total Testosterone
11-nor-9-Carboxy-THC (THC-COOH)
Steroids, Water-Soluble Vitamins and Fat-Soluble Vitamins


Download the Content Pack
Related to IVD-MKT-18-7225-B
SCIEX Diagnostics products are for in vitro diagnostic use. Product(s) may not be available in all countries. For information on availability, please contact your local representative. All other SCIEX products are for research use only. Not for use in diagnostic procedures.