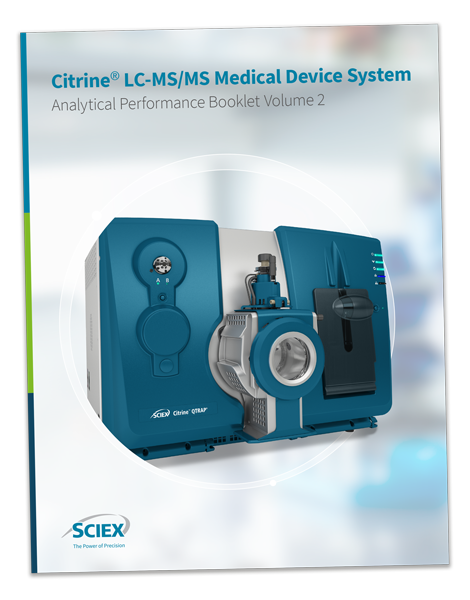 Do everything. See everything. One solution for every challenge.
Download the SCIEX Citrine® LC-MS/MS Medical Device System Analytical Performance Booklet Volume 2
The SCIEX Citrine® MS/MS, an in vitro diagnostic medical device, provides you with the ultimate performance and reliability to tackle today's difficult assays, and the versatility to address tomorrow's challenges. Delivering the legendary robustness and reliability of a SCIEX mass spectrometry solution, the Citrine MS/MS system is specifically designed to meet the demands of clinical labs that require maximum sensitivity, high throughput, a wide dynamic range, and simplified sample preparation.
Get the performance booklet today:
Related to IVD-MKT-20-9797-A

SCIEX Diagnostics products are for in vitro diagnostic use. Product(s) may not be available in all countries. For information on availability, please contact your local representative. All other SCIEX products are for research use only. Not for use in diagnostic procedures