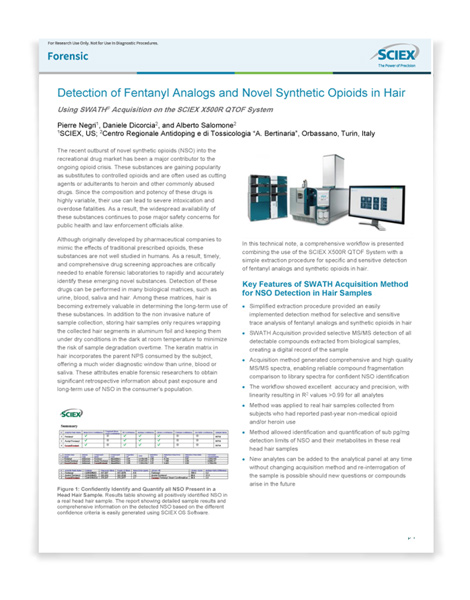 Detect fentanyl analogs and synthetic opioids in hair
Don't fall behind in the race for the ultimate test to trace fentanyl analogs and novel synthetic opioids. The following technical note features a comprehensive workflow that combines the power of SWATH® Acquisition with a simple extraction procedure for a specific and sensitive detection of these compounds in hair.
Key advantage of this solution:
High quality — MS/MS spectra—enable reliable fragmentation comparison with library spectra
High accuracy — excellent linearity with R2 values >0.99 for all analytes
Flexible workflow— new analytes can be added to the panel at any time, without changing the acquisition method. Re-interrogation of the sample is possible if new questions or compounds come up in the future.


Related to RUO-MKT-02-10354-A
For research use only. Not for use in diagnostic procedures.