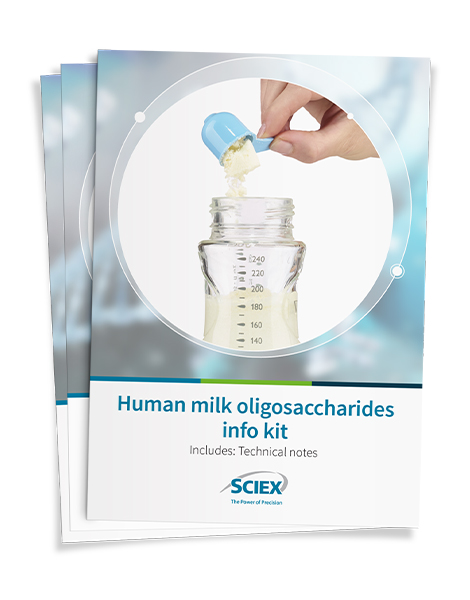 Analyze your human milk oligosaccharides with the speed and resolution you need
Human milk oligosaccharides (HMOs) are the third most abundant ingredient in human milk, and they are critical to child development. The quantities and structures of HMOs differ during the various lactation periods of the mother and are populationspecific. Consequently, there is an increasing demand to produce suitable baby formulas. Both pharma and food manufacturing companies are seeking to address this issue by developing natural analogue HMO-based functional food additives.

The human milk oligosaccharides info kit is a compilation of technical notes that explore how capillary electrophoresis (CE) solutions from SCIEX can help you quickly analyze your HMOs with the resolution you need to produce baby formula that is safe and effective.

Download this resource pack and:
Discover an ultrafast glycoanalytical technique for deciphering the high complexity of HMOs during the entire bioprocessing workflow
Enable faster decision making to fine-tune the bioreaction parameters during fermentation and enzymatic bioprocessing of HMOs
Learn how to separate whey proteins, casein proteins and immunoglobulins in both protein standard and infant formula samples in under 30 minutes
Related to RUO- MKT-02-11989-B, RUO-MKT-02-8133-B & RUO-MKT-02-12224-ZH-A
For research use only. Not for use in diagnostic procedures.