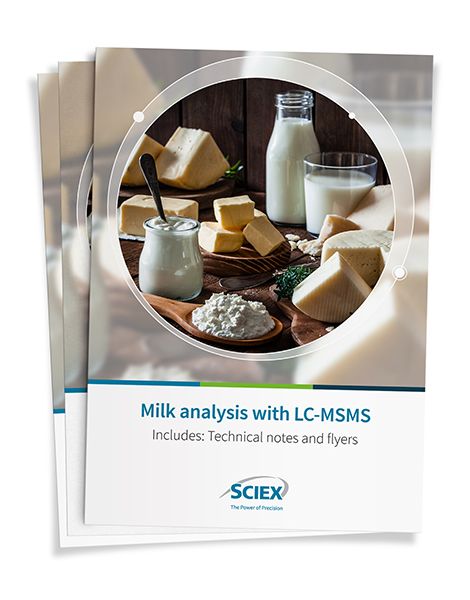 Accomplish your milk analysis goals with an LC-MS/MS system
Discover SCIEX LC-MS solutions for milk analysis
Analysis of milk and milk products occurs in different stages, from testing cattle feed for mycotoxins to analyzing the content of final products. Dairy owners, milk processing centers, finished product manufacturers and QA/QC testing laboratories need a reliable system that will support them with confident results every step of the way. LC-MS/MS is a robust solution that can help.

This content pack details how SCIEX LC-MS solutions can help you accomplish your milk analysis goals with support for:
Analysis of veterinary drugs: To meet growing demand for milk and milk products, various methods are used to increase milk production and decrease diseases in cattle, including the use of veterinary drugs, such as antibiotics and anti-parasite and non-steroidal anti-inflammatory drugs, along with the use of pesticides to reduce parasites and fungi in feed. SCIEX LC-MS solutions can help you meet the maximum residue levels (MRLs) established by food regulatory agencies to safeguard against excessive quantities of these compounds in food.


Identification of adulterants in milk: Water is the most commonly used adulterant in milk and milk products. This practice leads to a decrease in protein content, however, and to counteract this effect and help products pass preliminary protein-level tests, manufacturers sometimes add melamine, which is a base nitrogen-rich chemical used in plastics and adhesives. Since melamine poisoning can lead to renal failure, health authorities have flagged this manipulation. The SCIEX Triple Quad™ 3500 LC-MS/MS System can analyze concentrations of melamine in milk samples well below required MRL levels to detect its presence.


Quantitation of vitamins in processed products: The amount of fat-soluble vitamins in infant milk formula is a significant factor in determining its quality, since these vitamins play key roles in several important functions in the human body, such as vision. Reliable, sensitive and rapid methods for measuring fat-soluble vitamins in infant formula are essential. To meet this need, SCIEX has developed a user-friendly, comprehensive, high-throughput method for simultaneous determination of 8 fat-soluble vitamins in infant milk formula.
RUO-MKT-18-13350-A
For research use only. Not for use in diagnostic procedures.