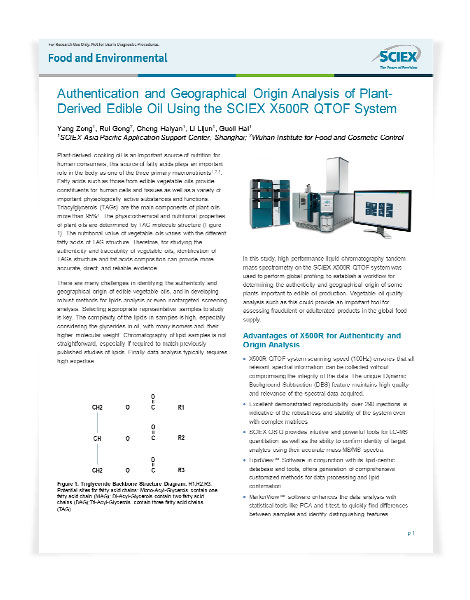 Do you know what's in your vegetable oil?
Get the technical note and learn how to determine the authenticity and origin of your plant-derived oils
To restore its reputation as a source of nutrition and leave behind its adulterated past, the plant-derived cooking oil market needs a change. There is a pressing need to establish a standardized, accurate and reliable testing method to identify the authenticity and geographical origin of edible vegetable oils.

This technical note demonstrates a global profiling approach that uses high-performance liquid chromatography-tandem spectrometry (LC-MS/MS).
Key advantages of this approach:
Efficient: the X500R QTOF System scanning speed (100Hz) collects all relevant spectral information without compromising the integrity of the data
Reproducible: robust enough to handle more than 290 injections
Flexible: offers LC-MS quantification and identification tools to confirm target analytes
Comprehensive : supports customized methods for data processing and lipid confirmation


Related to RUO-MKT-02-10076-A
For research use only. Not for use in diagnostic procedures.